New Zealand to Maui.
I just recently returned from a trip from New Zealand.  My wife and I were celebrating 30 years of marriage. We spent three weeks in the north island hiking, surfing and eating way to much good food.  What really was amazing in this beautiful paradise was when I was asked where I was from and said Maui.  People were just awe struck that we were from Maui, even know their home was such a beautiful place.
My wife and I live on the northshore of Maui. My wife grew up in Haiku.  Visiting New Zealand was a blast from the past, the feeling you get is it's the 1930's. It reminded me of a time when I was growing up, visiting small towns and super nice people when I was young.
Well all good things have to come to an end.  Flying home we reflected on all the beauty and wonderful people that we met. I was able to surf some of New Zealand's world class waves and see some amazing sites. Landing in Kahului Maui always feels good to be home. First thing that greets you is a blast from the warm trade winds.
Well I am back to work at my Wailea office, thankful that I live in such a beautiful place as Maui. I also have one  of the best jobs in the world, meeting nice people and selling Maui lifestyles. If your looking at buying a home in Wailea Maui, I am back to work and ready to help you with fulfilling your dream of buying a home or condos in Maui. So give me a call, love to help realize your dreams on Maui.
Wailea Beach Villas           Hoolei Wailea Maui                       Wailea Elua Oceanfront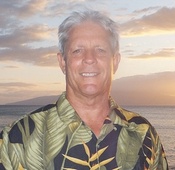 Steven Nickens R(S) GRI ABR
Island Sotheby's Int'l Realty
Wailea, Maui, Hi 96753
Cell: 808-280-2208
Website: nickensmaui.com
Email: nickens@maui.net